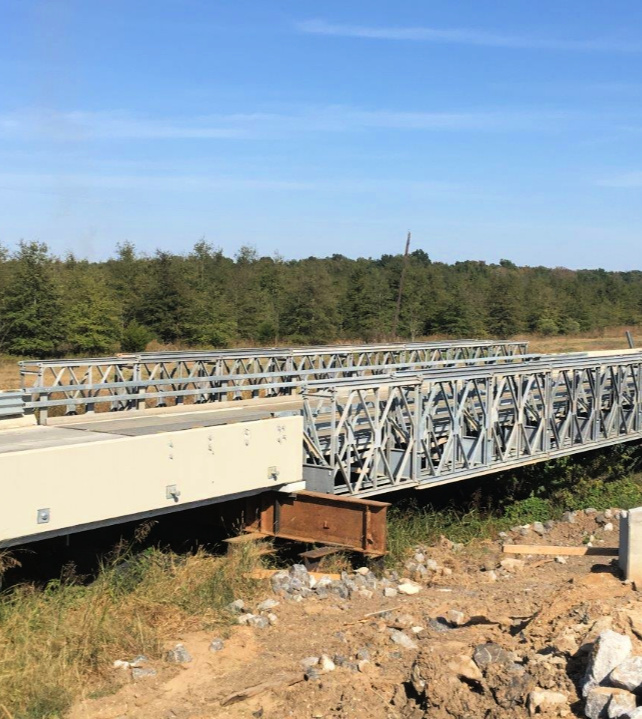 Temporary structures provide a cost-effective solution for maintaining heavy commercial and non-commercial traffic flow while protecting construction workers
When the Mississippi DOT began to plan the project to replace nine deficient bridges in North Mississippi, it was clear that three of the bridges would require longer detour spans than the 30-40' long concrete spans customarily used by Mississippi contractors. Acrow's 80' long by 24' wide truss panel spans were selected and combined with the contractor's shorter concrete spans, which serve as the bridge approaches. In order to accommodate the different dimensions of the Acrow and concrete spans, it was necessary to redesign the contractor's original substructure design. The three 80'-long spans are installed on SR6 over Buck Bayou on the outskirts of the city of Marks, and on US Highway 55 over Bobo Bayou and Ashlog Bayou between Marks and Batesville. The area is home to a vigorous timber and cotton industry, and both of these routes are vital traffic corridors for commercial and noncommercial traffic.
"As this installation demonstrates, Acrow modular detour bridges are a logical choice for state DOTs and contractors who need to stay on or ahead of schedule," said Bill Killeen, President and CEO of Acrow Bridge. "Acrow modular detour bridges, available for rent or purchase, are cost-effective and provide safe and dependable routes for area residents and businesses."
The three bridges were leased to Eutaw Construction, which was a joint venture partner with Key Constructors. The design engineer was the Pickering Firm, Inc. The first of the three spans was delivered and installed in May 2016 with the other two delivered and installed in June 2016. It is expected the bridges will be in use through December 2016.