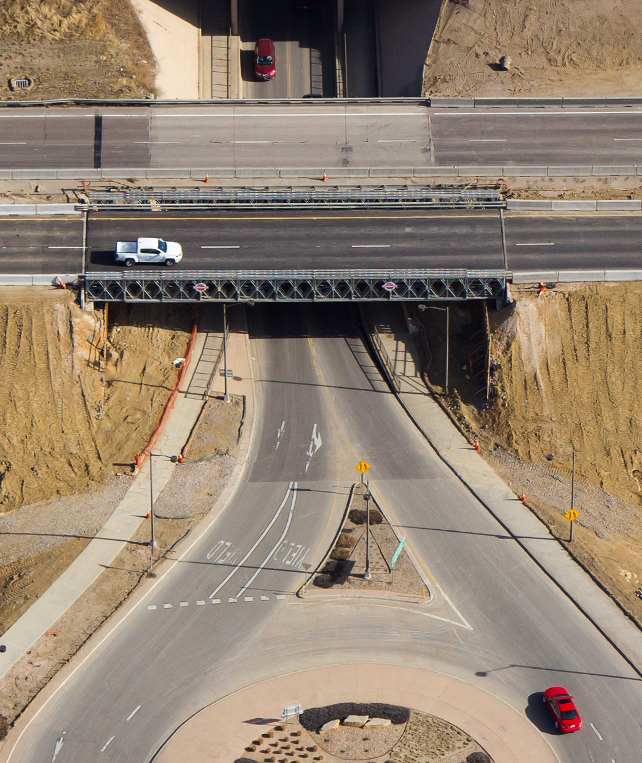 Colorado DOT selected an Acrow temporary bridge in the I-25 corridor between Denver and Fort Collins as an efficient and economical alternative solution
Rapid growth along the I-25 corridor between Denver and Fort Collins has led to severe traffic congestion, causing north Colorado businesses to lose an estimated $56 million annually, according to Weld County officials.
As part of a larger project to widen I-25 to six lanes along the 14 miles between Longmont and Fort Collins, it was necessary for Colorado DOT (CDOT) to replace two bridges at the Crossroads Boulevard intersection in Loveland. The area near this intersection continues to experience economic development, and it is expected that the improvements will provide better access to existing business and spur future development.
Acrow offered a two-lane rental bridge, 110-feet-long by 30-feet-wide, to CDOT as an alternative construction option to building a concrete detour lane that would need to be demolished later in the project. Another unique aspect of the project was the use of GRS (Geosynthetic Reinforce Soil) abutments utilizing a TENSAR® Geogrid system. The lower-cost materials, reduced labor needed and the use of lightweight installation equipment offered an economical alternative to more traditional structures.
Traffic was diverted to the temporary bridge in January 2017 as the existing northbound bridge was demolished and rebuilt. By August 2017, the temporary bridge will be used for southbound traffic while the existing span there is demolished and rebuilt. The original traffic configuration is scheduled to resume in December 2017.
The design engineer was John Brain, Chief Engineer at Acrow Bridge. The abutment was designed by Robert Oddo of Oddo Engineering. Ralph L. Wadsworth Construction Co. is the contractor for the $22.1 million project.
"It was very gratifying to be a part of this critical infrastructure project in a high-growth, high-density area of Colorado," said Tom Pinder, Western Region Sales Manager and Manager of Mining, Gas and Heavy Haul Business at Acrow Bridge. Added Bill Killeen, President and CEO of Acrow Bridge, "This project is a great example of how Acrow modular systems offer creative bridging solutions and provide value to contractors and government agencies alike."