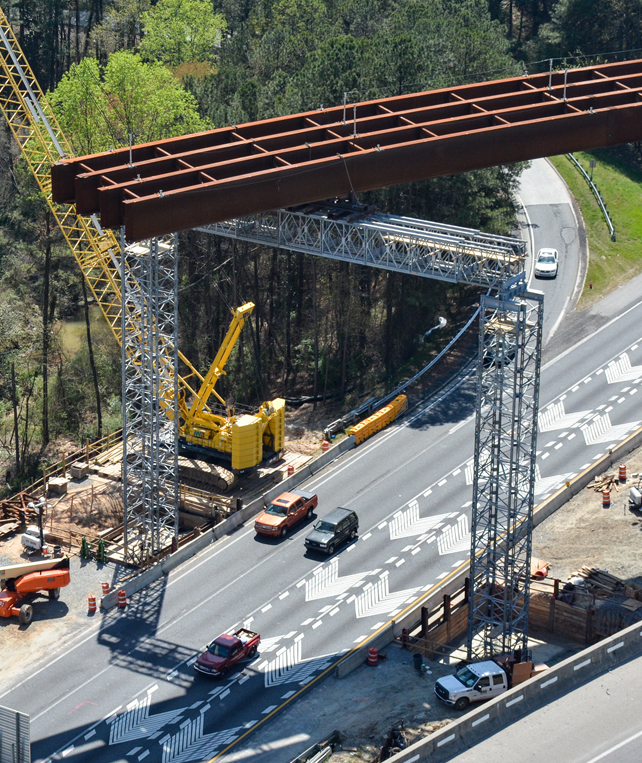 Georgia DOT Relies on an Acrow Temporary System to Ensure Continuous Flow of Heavy Traffic on Ramp Connecting I-285 and I-75
Atlanta's Northwest Corridor Project was designed to add nearly 30 miles of express and toll lanes along I-75 and I-575 and to ease traffic congestion in the northwestern suburbs of the city. It was begun in 2014 and is expected to be completed in 2018.
When construction was considered for the ramp from I-285 eastbound to I-75 northbound, it was determined that neither a detour nor a full closure would be possible, owing to the heavy amount of traffic it carries. Instead, contractor Northwest Express Roadbuilders rented a temporary "straddle bent" support system from Acrow that supported four girders during the staged erection sequence for the flyover over the ramp. The system included two 70-foot-high towers and an 85-foot-long straddle bent pier.
The project posed numerous challenges. Situated in a highway interchange, access to the site was very limited.
Also, because it was not possible to use guy wires, the towers and straddle bent were required to be a moment frame, since the shoring tower was in the same location as future overhead signage, Acrow was able to adapt the footings to also be used as the footings for the shoring tower. The construction of the straddle bent and the staged erection of the girders had to be conducted during nighttime hours because of the extremely high traffic volume on the ramp. Acrow's engineers had to factor into the superstructure design load of the girders and the deflection caused by the load to ensure the girders were at the correct elevation.
The Acrow team excels at unique solutions to the most difficult projects, and like all Acrow products, its support systems are completely customizable and durable enough for the most demanding applications.