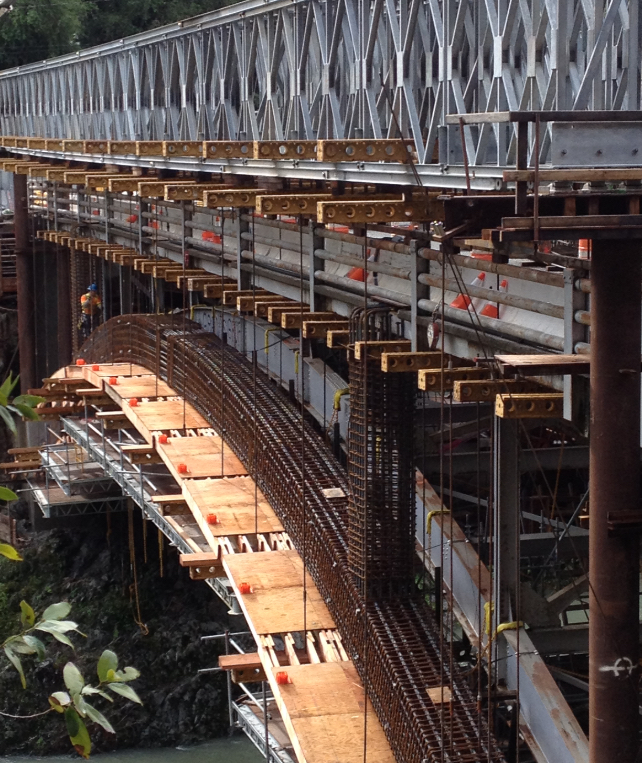 Because the 68-year-old George E. Tryon Bridge spans environmentally sensitive gorge on the south fork of the Smith River in Northern California, project posed challenging siting issues, including endangered wildlife species. The rehabilitation project involves replacing the existing 206´ x 24´ steel arch bridge with an aesthetically similar concrete arch span 231´x 32´4˝.
The additional width will eliminate one-lane sections of the roadway and allow room for bicycles and pedestrians along with significant tourist traffic.
With initial bids were over budget, Acrow collaborated with Flatiron Construction who, acting as the CM/GC, value engineered a hanging formwork truss bridge outside the existing steel structure. The Acrow structures utilized were two 155´ clear spans, 9´ out-to-out.
The job posed numerous difficulties, including restricted staging areas at the site. Additionally, the bridge is located on the very steep, rocky banks of a 60´-deep environmentally sensitive gorge, and the area is home to threatened and endangered wildlife species. Because the adjacent land is owned by the California Department of Parks and Recreation, the U.S. Forest Service and private individuals, multiple- agency coordination was necessary.
"This was a challenging job, but ultimately very rewarding" said Jack Arizcuren, Pacific States Sales Manager at Acrow. Added Bill Killeen, President and CEO of Acrow Bridge, "This project is a great example of how Acrow systems can provide creative solutions to difficult situations and provide value to contractors and government agencies alike. Acrow structures are a great choice when its critical that projects stay on, or ahead of schedule and within budget."
REQUEST A QUOTE
CONTACT ACROW
Connect