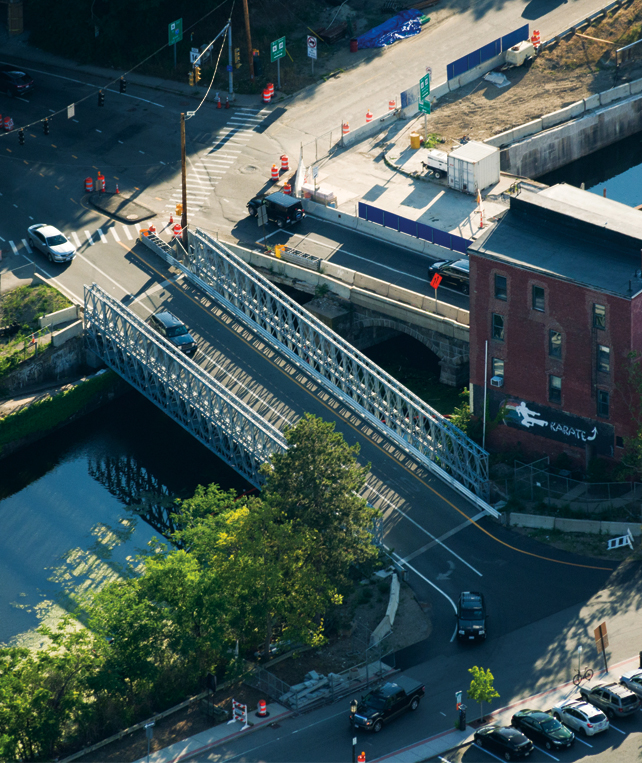 MassDOT chooses Acrow two-lane detour bridge solution for use during rehab of historic bridge over the Mystic River
The historic Cradock Bridge was originally built in 1637, was rebuilt in 1880 and rehabilitated in 1934. But it was determined to be structurally deficient several years ago, and added to the list of state-owned bridges to repair under MassDOT's Accelerated Bridge Program.
The work on the stone arch bridge includes demolition and rehabilitation of three concrete piers underneath the structure, and installation of renewed stone archways, upgraded utilities, new pavement and sidewalks. Additionally, remnants of an abandoned dam structure will be renovated to restore full flow of the Mystic River. It is anticipated that the project will be completed in November 2019.
Acrow's two-lane detour structure is a skewed bridge with a length of 133'10" at the centerline and a width of 30'. Because two of the original bridge's four lanes will be closed during the rehabilitation, it was critical to add additional capacity to handle traffic in excess of 16,000 vehicles per day including almost 300 public transit buses carrying nearly 7,000 passengers – with particularly heavy traffic  during rush hour.