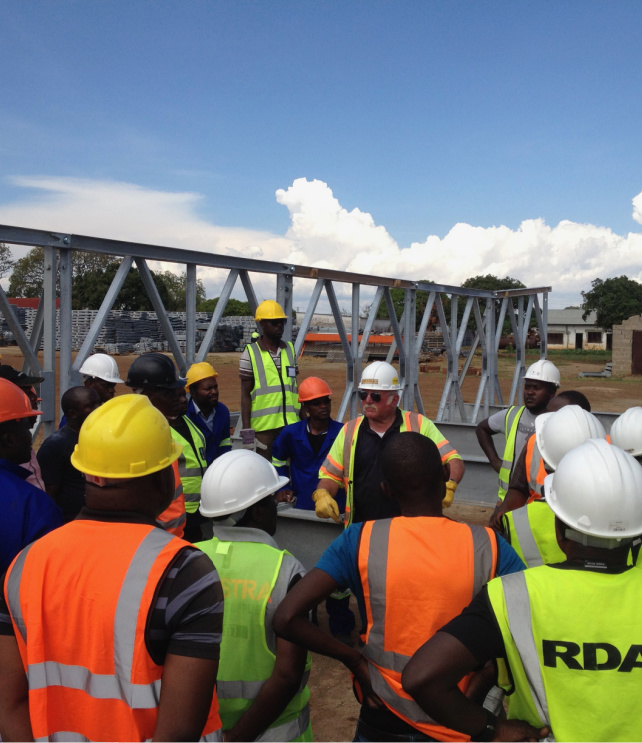 When the Road Development Agency of the Republic of Zambia sought a partner for its large-scale bridge development program, it chose Acrow, a company with a long history of partnering with African nations on the development of critical national infrastructure.
Building on its commitment to supporting sustainable infrastructure development, Acrow supplied more than 130 bridges, comprising single- and multi-span span structures of one- and two-lane widths, and ranging from 12 meters to more than 100 meters in length. The structures are being installed throughout the country by local Zambian engineers, technicians and contractors, trained in the field on assembly, installation and maintenance, thus demonstrating Acrow's commitment to providing extensive skills transfer and local skills development.
Acrow's prefabricated steel bridges are well-suited for infrastructure development projects. Their modular design allows for easy customization to meet specific site requirements, enabling bridges to be erected in challenging, remote locations. Assembly and installation is fast, typically completed in days or weeks, by a local workforce with minimal heavy equipment required. Fabricated in the U.S. from high-strength, high-quality U.S. steel and hot-dip zinc galvanized to protect against corrosion, Acrow's premium quality infrastructure solutions are designed to withstand even the most rugged conditions and have a service life of more than 75 years.
Through its comprehensive Bridge Development Program model, Acrow has implemented a number of large financed infrastructure development projects in Africa, and drew upon export credit guarantees issued by the Export-Import Bank of the United States for the Bridge Development Program in Zambia. Eager to continue to partner with Sub-Saharan African nations to support sustainable infrastructure development, Acrow is proud to have been able to partner on this project and remains committed to leaving a legacy of rural connectivity for the communities it serves, across Africa and beyond.