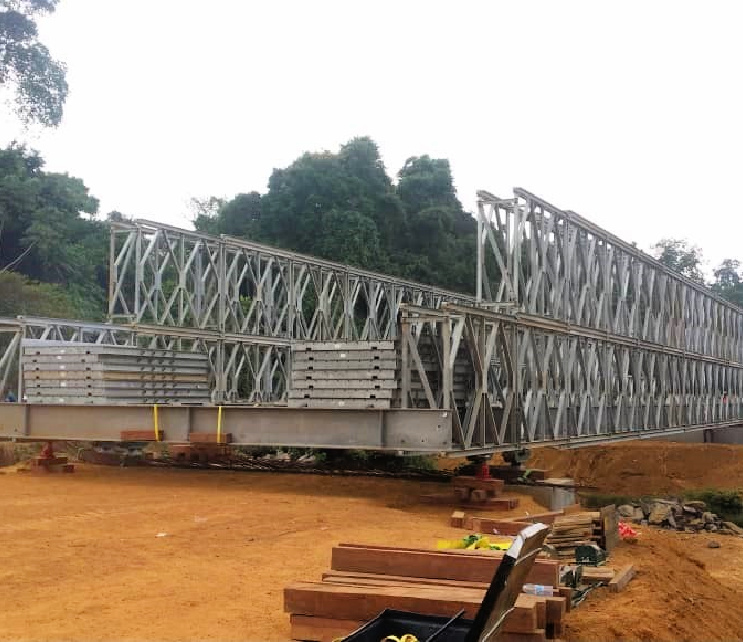 With a vision to provide better access to schools, medical clinics and enhanced economic opportunity in rural areas, the Government of Cameroon embarked upon a large-scale Bridge Development Program to purchase and install 44 bridges. Acrow was selected as the partner of choice for the Program due to its commitment to the development of critical transportation infrastructure across Africa over several decades.
The modular steel bridges were delivered as part of the Program were manufactured in the United States and consisted of two-lane structures ranging from 12 meters to more than 120 meters in length. They are being installed throughout the country by local engineers and technicians, trained in bridge assembly, installation and maintenance under Acrow's Bridge Development Training Program, and supported by a team of Acrow's on-site technicians.
Acrow bridges are an ideal solution for large-scale infrastructure development programs. Their modular design is easily customized to meet specific site requirements and they can be easily assembled in challenging, remote locations. Installations are typically completed in days or weeks and require minimal heavy equipment. All Acrow modular components are fabricated in the U.S. from high-strength, high-quality U.S. steel and hot-dip zinc galvanized to protect against corrosion. Durable and permanent, they are designed to withstand even the most rugged conditions with a service life of more than 75 years.
As a key feature of its Bridge Development Program model, Acrow brings together the financing needed to make these transformative projects a reality. Financing for the project in Cameroon was arranged by Acrow via a lending facility extended by a major international financial institution, and loan guarantees issued by Export-Import Bank of the United States.
In Cameroon and across the African continent, Acrow bridges support the development of regional trade and enhanced connectivity to schools, medical clinics and other basic goods and services, leaving a legacy of enhanced connectivity through transformative infrastructure.